Sample Photo Album at: https://www.bigkahunahosting.com/piwigo/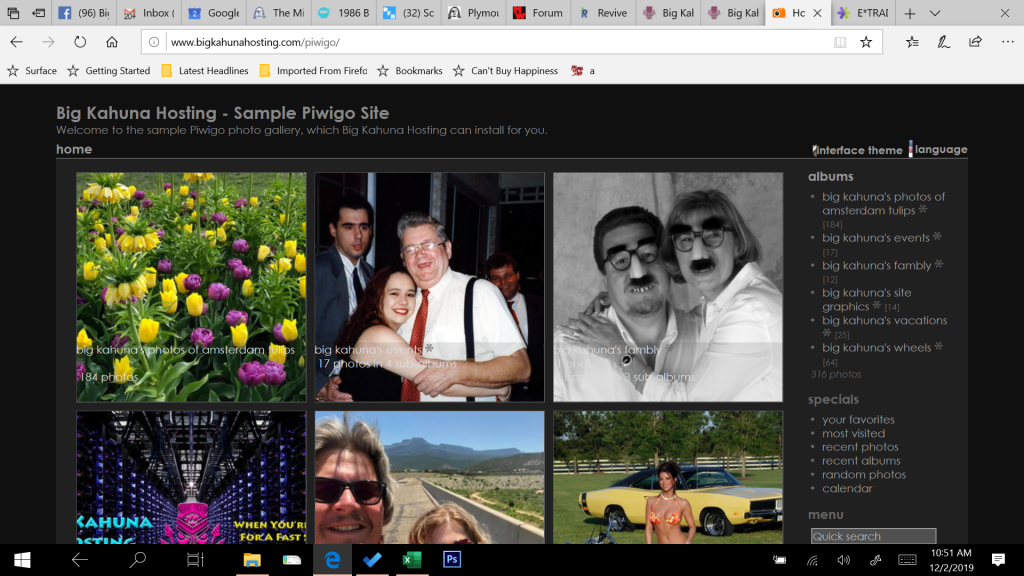 List of Piwigo Albums
Why We Suggest This Application Over Others
There are many free options for this type of application. At the moment we prefer this one as it still receives regular updates and works with the more recent versions of php. Many applications require php 7.0 or above, while some won't work with anything above php5.4.
So that our hosting customers wanting to run multiple applications won't have to choose one application or the other, we suggest only applications that can work with php 7.0 up, and are still actively supported and updated.
The Big Kahuna Advantage
Our Server is fast enough to support this application. Most shared servers are over sold, over-extended, and limit the services resources to a small percentage; and this application will be hard to install and run slow if installed on them.
We backup back web site each evening. We retain multiple backup copies so a site can be restored to different points in time.
We will apply a setting that will update the application with newly released revisions.
Piwigo
Piwigo is open source photo gallery software for the web. Designed for organizations, teams and individuals.
Piwigo is a photo gallery software for the web that comes with powerful features to publish and manage your collection of pictures.
Features:
Privacy on your Photos. Make your photos private and decide who can see each of them. You can set permissions on albums and photos, for groups or individual users.
Photo Tagging. Offer your visitors another way to browse your photos, starting from the tags cloud and using multiple related tags to reduce the selection.
Browse by Date. Digital cameras store the date in the photo and Piwigo uses this date to display your photo collection in a calendar and let you browse from day to day.
Statistics and Management Tools. Administrators can browse history, process photos in batch mode, validate comments and user photos, add permalinks or manage remote servers.
Themes and Plugins. Change appearance with themes. Add features with plugins. Extensions require just a few clicks to get installed. 350 extensions available, and growing!
-Piwigo developer
Who uses Piwigo?
Event Photographers can make album private and generate a login to give customers to review proofs.
Image sellers can have the site accept PayPal to download a photo bought.
Clubs can keep track of their events.
The average Joe can categorize all of his photos into categories to quickly locate a photo
Tour Companies
Its perfect for just about any business, club, organization, church, or Individual
Installation
This application is what is referred to as a php script. It is "Open Source", which means you can use and modified freely. It requires an available database. You can technically go to their web site and download a copy free. You would then go into your cPanel to setup a database, a user and link the two. Next you Unpack the files onto your hosting account , modify the configuration file, run the setup and deleletethe installation directoy from the account. Many find this too complicated for their Skills, and so we Offer an installation service to do this for you.
Setup and Configuration
Next you'd log into the admin control panel of the application aanddo the setup and configuration. This is far more simple than the InstallTion, but will require reading the documentation and time consuming if you've never done before. We also can perform this service for youto include the below.
Install ten different Themes which you can decide which "look & feel" best suited you
Configure your site's name, description and other conf. info.
Install and activate 8 popular addons
Setup your user list, up to ten users
Set your album's categories and sub categories
All other configurations to make Galleries immediate usable
There is an iPhone app for Pewigo in the ap store. I makes it incredibly easy to organize the photos on your cell phone.
Price
Total cost to Install Pewigo and configure/setup as described above onto your Big Kahuna Hosting account is $250.