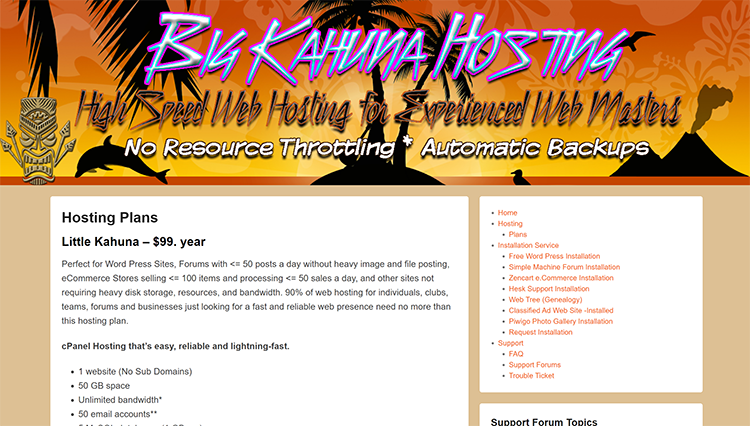 Big Kahuna Hosting is a hosting company that was created by a web developer who was frustrated with jumping from hosting company to hosting company because of the grossly under-power and grossly oversold servers. They're unbearably slow, which drives away site visitors. They throttle resources, which wastes the time of web developers. They constantly lock up from being over taxed.
The dirty little secret of most (better than 95%) web hosting companies, is that they're simply resellers for one of two shared server companies. Check Out Go Daddy's Reseller Program. You pay them a monthly fee and they give you a store front with your identity. You do the advertising, people sign up and Go Daddy handles everything. Sounds like a great concept – except that the hosting absolutely sucks. They have thousands of accounts on a server that shouldn't have 100s. Trust me, I tried the reseller route and it was a nightmare having sites down as much as they were up, and customers falling asleep waiting for the next page to upload.
So we got one of the baddest assed server's, racked in one of the fastest server hotels, and it is not over taxed, and we'll always keep it that way.
To help defray the expenses of avoiding frustrations, we make hosting available a limited number of web sites run by experienced web designers who don't need a lot of hand holding. We use WHM to manage the server and each account get a Cpanel to manage their Email and FTP accounts, backups and restorations, metrics and statistics…
We have a strong firewall, block communist counties where much of the hacking problems come from, and a keep the operation system up to date and feature heavy. The sites are backed up nightly, multiple copies of backups are retained, and restoration from backup is simple.
We are perfect for the small business who can't afford a dedicated server – or to lose customers on a cheap over-loaded shared server.